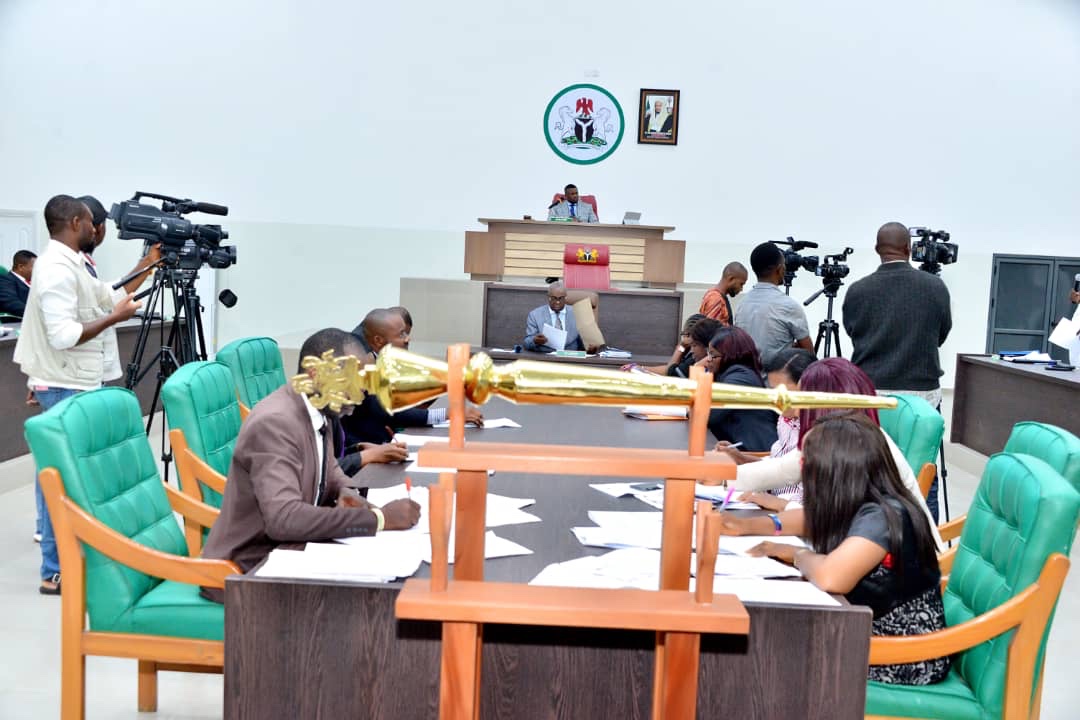 …calls on federal government to urgently rehabilitate all Federal roads in Edo state
Edo State House of Assembly today mandated the Federal Government to as a matter of urgency rehabilitate Federal roads in the State in view of the socio-economic and security challenges faced by residents and roads users owing to its deplorable state.
The resolution followed
a matter of urgent public importance moved by Member representing Orhionmwon East constituency, Hon Nosayaba Okunbor calling on the federal government and it's agencies to as a matter of urgency rehabilitate Federal roads in Edo state "
The Prime mover of the motion who decried the road infrastructure decay on the Benin Ekpoma- Auchi -Abuja road , Benin Sapele Road. Benin Ifon-Owo Akure road and Benin -Abraka ,Benin-Agbor -Asaba road among other federal roads in the state said the dilapidation poses threat to lives and property of citizens .
The motion co-sponsored and supported by all the members was further amended by the members representing Esan North East Constituency One, Rt.Hon. Francis Okiye and Esan South East constituency, Hon.Osezua Ojiezele .
Members spoke in favour of the motion, urging members at the NASS to make a resolution mandating the relevant government agency to pay a visit to the roads.
The Chief Whip of the House, Rt.Hon Emmanuel Okoduwa in support said the motion is timely just as State roads have been destroyed by heavy duty vehicle.
Rt.Hon. Francis Okiye who represents Esan North East Constituency One, decried the state of federal roads while calling for reactivation of weigh bridges and other measures to protect the existing roads, amended the motion to include other federal roads.
Majority Leader, Rt.Hon Henry Okhuarobo said the federal roads in Ikpoba Okha and neighbouring local government areas are in a disrepair, advocating the need for states to face building of federal roads and maintenance in their areas.
Member Esan South East Osezua Ojiezele also spoke in support of the motion, stating that the solution is simply devolution of power.
The Speaker, Rt Hon. Marcus Onobun said the motion is germane as his constituents share in the pains of the infrastructure challenge and directed that clean copies of the House resolution be forwarded to relevant government agencies for consideration.
Consideration of the report of the House standing committee on budget and economic planning on year 2022 proposed revised supplementary appropriation Bill was slated for the next sitting as the Chairman of the committee Hon. Ephraim Aluebhosele applied for an additional day to fine-tune the report for consideration.
The Speaker slated consideration of the reports to the next sitting date and enjoined members and Staff to prepare to receive the State governor, Mr Godwin Obaseki and other visitors to the State Assembly complex for the presentation of year 2023 appropriation law on Wednesday 16th November 2022.
The Deputy Speaker Rt.Hon. Roland Asoro before moving the motion of adjournment also expressed the readiness of the House for the presentation of the 2023 budget.