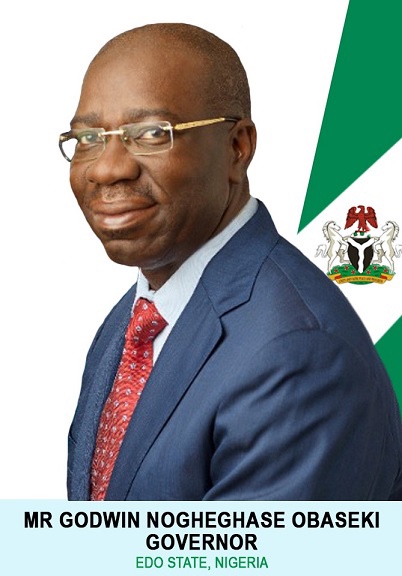 I, Rt. Hon. Marcus Onobun, Speaker of the Edo State House of Assembly, on behalf of Myself, My family, Distinguished legislators, Management and Staff of the Edo State house of Assembly, wish to congratulate Your Excellency, Mr. Godwin Nogheghase Obaseki, the Executive Governor of Edo State on your historic achievement of Governor of the Year award from the stable of Vanguard Newspapers.
For those of us who are your allies in the governance circle of Edo State; the award did not come to us as a surprise knowing the calibre of programmes that you have lined up to actualise your dream of taking the people of the state to a higher pedestal in governance.
On the list are EdoBEST, Edo Jobs, EdoSTAR, and many others which aggregate to form the fulcrum of the octopus MEGA(Making Edo Great Again).
These programmes have been so effective and laudable that they attract the genuine interest of some neighbouring state governments who tap from them by sending their representatives to Edo State to understudy the prototype.
This award, a milestone coming on the eve of the 2023 Presidential Polls when Nigerians are yearning earnestly for the dividends of democracy, is a huge addition to other prestigious awards that you have been bestowed with since your assumption of office and is surely a booster to your next stop in the political equation of Nigeria.
Once again, congratulations your Excellency. You are a beacon of hope to all of us.
Signed
Rt. Hon. Marcus Onobun,
Speaker, Edo State House of Assembly.