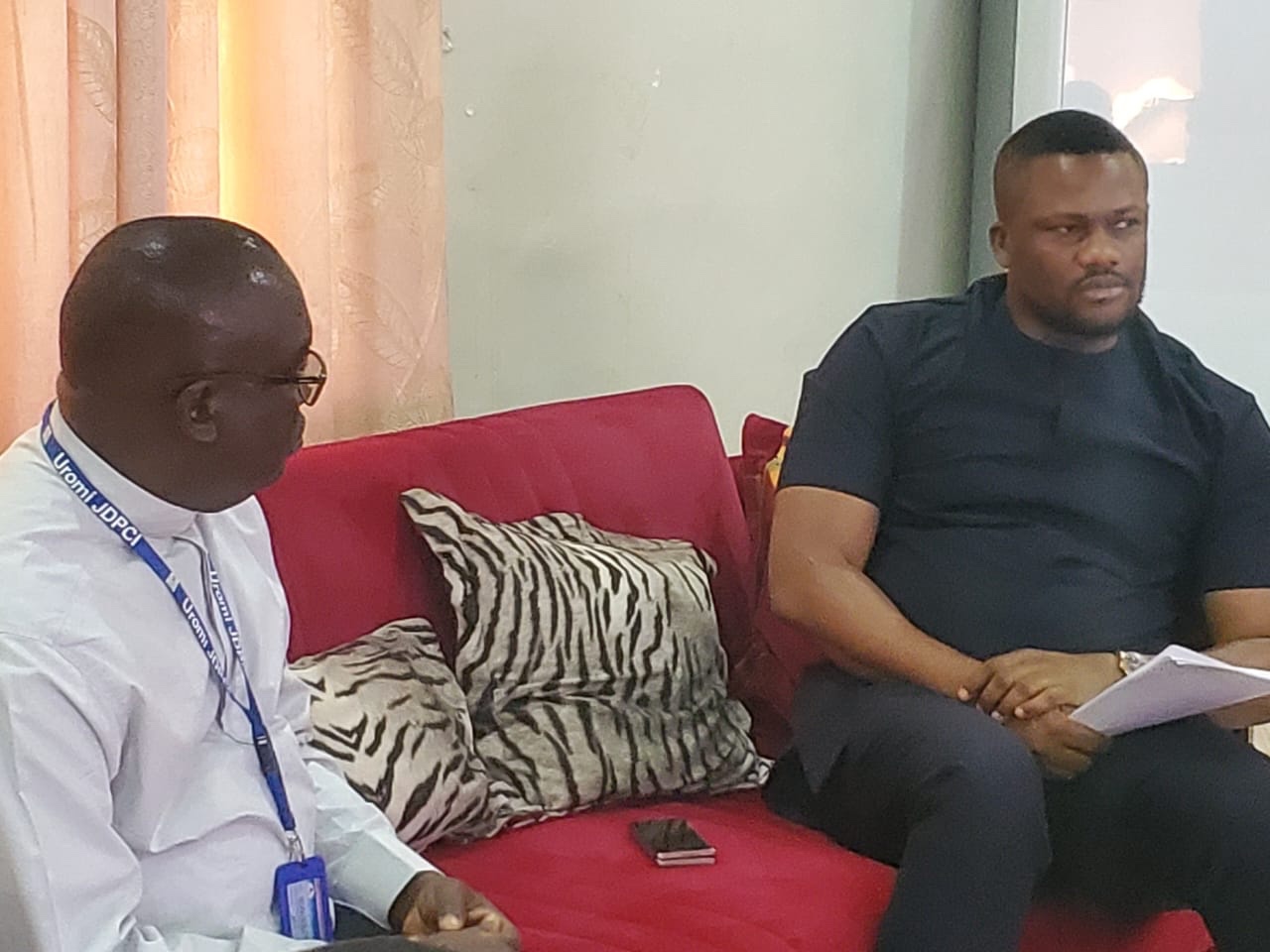 The Speaker of the Edo State House of Assembly Rt. Hon Marcus Onobun Ksc, has reiterated the commitment of the 7th assembly to pass bills that directly affects the people.
He stated this while playing host to a delegation from JDPCI led by very Rev. Fr. Dr. Fidelis Oriabure Arhedo: Executive Director, JDPCI Uromi, Esan North East.
Rt Hon Marcus Onobun explained that as the 7th Assembly continues it's job of lawmaking till the expiration of it's tenure, only bills and resolutions with direct impact on the people would be passed.
He said the assembly in the past few months has commenced this with the passage of the disability bill for intergraton and education of the physically challenged in society, the bill on 44 alterations which includes the local government autonomy.
" We have started the passage of bills that touches the people with the passage of the bill on 44 alterations which requires states to give a nod to these bills; notable is the local government autonomy giving the third tier of government administrative, financial, judicial, and legislative autonomy, and it would interest you to know that Edo is the fifth state that passed the 44 alterations".
These he said would strengthen the third tier of government and the base at the local level in response to their request of having an anti-human trafficking agency for the rural populace.
The speaker explained that their request for the review of the Edo state state trafficking in persons prohibition law 2018, to make provision for actualisation of local government response unit, establish victims trust fund as well as increase budgetary allocation for the Edo state taskforce against human trafficking is in place.
Rt Hon Marcus Onobun expressed the view that it would be given the right attention when the amendment is presented .
He thanked them for the visit and their job for the body of Christ and the society in general.
Earlier, leader of the delegation very Rev Fr Fidelis Arhedo explained that the JDPCI is the social arm of the Catholic Church which works with NGOs and CBOs to promote justice, peace and empowerment of widows,the poor and less privileged.
Fr Fidelis Arhedo said the aim of the visit to the speaker is to appeal for the review of the Edo state trafficking in persons law 2018,for it to affect the people at the grassroots .
This he said would help their job of trying to mitigate Human trafficking in the rural areas of the state, maintaining that with the Advent of the internet, the dimension of trafficking is taking a turn for the worse if not checked with the right laws.
He appealed for the setting up of an agency which would have local reach and the establishment of victims trust fund.