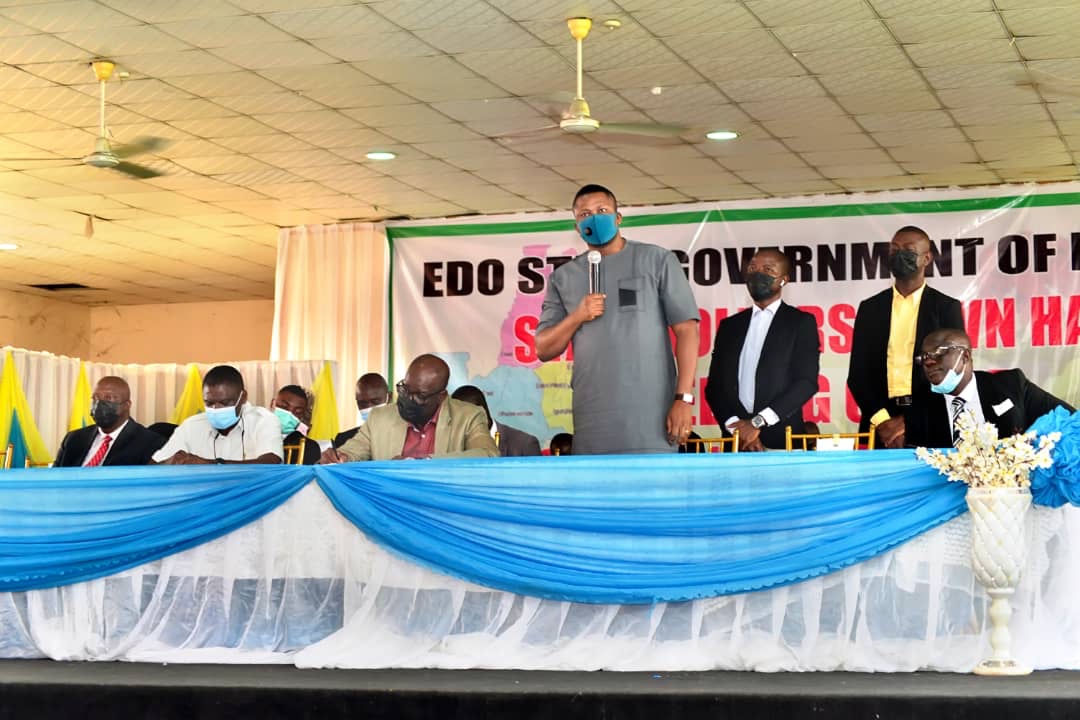 Speaker Edo state House of Assembly, Rt. Hon. Marcus Onobun has reassured that the House will not pass any bill without consulting relevant stakeholders in the state.
The Speaker said this at the stakeholders town hall meeting held at Imaguero college hall, Sapele road Benin city. He said as Legislators the primary objective is to secure lives and properties of the good people of the State, and as such, will grant expedient consideration to any Bill as soon as it is applied.
The purpose of the Stakeholders meeting was to create an avenue for interactivity between the government of Edo State and representatives of all relevant communities, groups, associations, security agencies as well as farmers to discuss measures to tackle insecurity crisis the State has encountered in recent times.
During the interactive session, the State Governor, Mr Godwin Obaseki said because the issue of insecure was deep-rooted, it has become pertinent for stakeholders to come together to secure the State without sentiments.
The governor stated that several models are being looked at to guarantee the global best practices suitable for the transformation plan for Edo as a State. One of such models is Edo State Livestock Initiative (ELI).
The proposed ELI is expected to contribute to economic diversification through supporting improvement on the quality and quantity of livestock production, reduction of farmers-herders clash, increase Internally Generated Revenue (IGR), as well as Job creation.
A cross section of contributing groups tilted towards passage of a Bill supporting Anti-open grazing. However, suggestions such as ranching was raised to replace cattle migration and open grazing. Other bullet points includes formulation of insurance policies to secure farmers' investments, regulations of lands acquisition for ranching, biennial appraisal of the ranch and also assessment of environmental effect of ranching to the host community.
Other participating groups who spoke against total cancellation of Open grazing, decried the infiltration of genuine cattle business of herding by criminals who parade themselves as herdsmen to perpetuate atrocities across the country. They nonetheless suggested appropriate registration of legitimate herders for accountability purpose and prohibition of possession of fire arms by cattle herdsmen. They also requested avenue for compensation to farmers whose crops are destroyed by cattles.
After the presentation, Governor Obaseki enjoined all groups and various community leaders to liase and carefully analyse the pros and cons with an open mind before reaching an agreement to proceed with the propose Anti-open grazing Law.
Some of the dignitaries in attendance include, Deputy Governor, Comrade Philip Shaibu, Secretary to the State Government, Barr. Osarodion Ogie, Head of Service, Barr. Anthony Okungbowa, Members of Edo State House of Assembly, representative of the State Chief Judge, permanent Secretaries, commissioners, Community Chiefs and Enogies across the senatorial zones, security agencies, religious leaders, various associations and interest groups.